Forms for visa on arrival and e-visa
There are several simple forms you will need to fill in to apply for a visa. Please find them below.
1. Vietnam visa on arrival
Online application form (submit online)
When you applying for a visa online, you will be redirected to the application form at https://www.e-visasvietnam.com/apply-for-visa-on-arrival/. Please fill in with your passport details, the visa type and intended date of arrival.
Learn more about Vietnam visa on arrival
Offline application form (submit via email)
If you are difficult to apply online since there are more than 10 people in your group coming from different countries, you can download the offline application form, fill in with passport details and send us via email
vietnamvisabooking@gmail.com
Entry and exit form (at arrival airport)
At visa desk you will need to complete the Entry and exit form (NA1 form) before getting visa stamp. You can also download the form and fill in advance to save your time at arrival airport.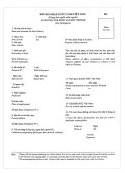 Please download and fill in the form with required information. If you get difficulties in completing the form, you can refer to the instruction on
how to fill in the Entry and exit form
.
2. Form for e-visa
There is online application form you need to fill in the e-visa application form. You are also requested to upload your passport copy and passport-sized photo.
If your visa is approved we will deliver the e-visa within 3-5 working days.
If you need a rush evisa, you may select 2 working days service, 1 working day service or 4 working hours instead.
You can also send us your information via email vietnamvisabooking@gmail.com including:
– Full name, gender, date of birth, nationality, passport number and expiry date;
– Your religion;
– Intended length of stay in Vietnam (number of days): maximum 30 days;
– Intended temporary residential address in Vietnam: name of the hotel and address;
– Date of arrival;
– Port of arrival;
– Port of exit;
– Purposes of entry;
We are here ready to help you!
If you have any further inquiries, comments or feedback, please kindly contact us by phone or Whatsapp at +84-912-685-141 or send an email to vietnamvisabooking@gmail.com. We are happy to assist you at our best!