Vietnam visa requirements for Turkish nation
All the citizens of Turkey will need a visa for Vietnam for both tourism or business purposes. Nowadays, the Turkish passport holders can easily apply for Vietnam visa at the Vietnam Embassy or apply online to pickup visa at arrival airport. Each of them has its own advantage however, visa on arrival is one of the easiest and cheapest way for Turkish passports getting a Vietnam visa.
Vietnam Embassy has been established in
Turkey
;
Vietnam visa is
required
for all
Turkish
citizens;
Turkish
citizens are NOT eligible for e-visa;
Turkish
citizens can get visa on arrival;
1. General information
– Vietnam visa is required for all Turkish passports;
– The Turkish passport holders can apply for 1 month or 3 months tourist visa. If they enter Vietnam for working with the Vietnamese Enterprises, they will need a business visa;
– The business visa can be 1 month, 3 months, 6 months or 1 year validity and it can be extended when it's expired;
– The processing time for Vietnam visa on arrival is normally 2 working days or 5 working days for the visa applied at the Vietnam Embassy. In urgent cases, visa on arrival can be done within 1 – 2 hours, in working days or at weekend;
– The passport must have at least 2 blank pages for visa sticky and stamp; and must be at least 6 months validity from the date of arrival;
2. How do Turkish passport holders apply for Vietnam visa?
2.1. Apply online for a Vietnam visa on arrival
The Turkish passport holders can apply Vietnam visa on arrival from anywhere outside of Vietnam. The Vietnam visa will be picked up upon arrival at the Vietnam airports by showing up the printed approval letter.
The approval letter will be sent via email within 1 or 2 working days (normal processing mode), 4 working hours (urgent processing mode) or even 1 hour (emergency processing mode) depending on which option the applicant chooses when submitting online application form.
The aim of visa on arrival is to make the trip to Vietnam easier and cheaper. It is applicable only to those traveling by air to Vietnam. Vietnam visa on arrival is especially an advantage to those living far from the Vietnam Embassy or Consulate in Turkey.
By using Vietnam visa on arrival, the Turkish applicants does not need to wait too long to get the approval letter, an official document issued by Vietnam Immigration Department giving permission to get the visa upon arrival.
In order to get a Vietnam visa on arrival, the Turkish applicants should pay two types of fee: the service fee and the stamping fee.
Service fee: The service fee is for visa approval letter processing.
Stamping fee: The stamping fee is paid in cash to the Vietnam Immigration Officer at the arrival airport to get the visa stamp.
Useful notes:
– Visa on arrival is only applicable for visitors traveling by air to Vietnam.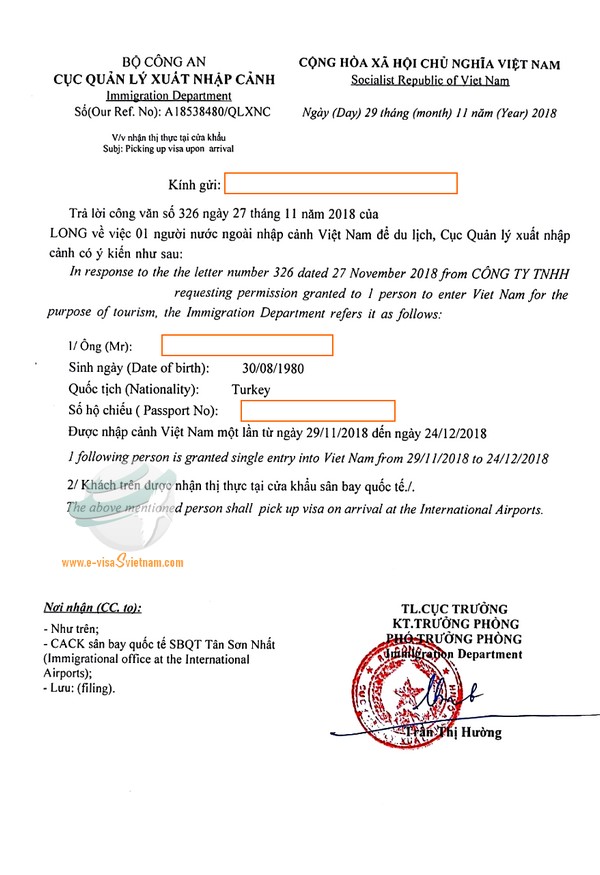 Sample of visa approval letter for Turkey passport issued by the Vietnam Immigration Department
2.2. Apply for e-visa for Vietnam
From 1 February 2017, the citizens of following countries are eligible to apply for e-visas for Vietnam. As Turkey is not in the list, Vietnam e-visa is NOT available for Turkish passport holders at present.
2.3. Apply for Vietnam visa directly at the Vietnamese Embassy or Consulates
For those who want to get a Vietnam visa beforehand or want to travel to Vietnam by land or sea, they can go to the Vietnamese Embassy or Consulate nearest their location.
The address of Vietnamese Embassy or Consulate in Turkey for your information:
Embassy of Vietnam in Ankara, Turkey
Address: 414 Sokak, No: 14, Birlik Mahallesi,06610 Çankaya, Ankara, Turkey
Phone: + 90 (312) 446 8049; Hotline: +90 534 637 5328
Fax: + 90 (312) 446 5623
Email: dsqvnturkey@yahoo.com; Consular section: dsqvnturkey@gmail.com
3. Photo requirements for Vietnam visa notice
The Turkish passport holders, who is applying for tourist visa, don't have to submit the scanned photo for visa processing. However, business visa application may require a passport photo.
When you arrive in Vietnam, 2 passport size photos (4×6 cm) are required at Vietnam airport only. You need to bring your passport along with the approval letter and 2 photos to get visa stamped on your passport. You can also take picture at Vietnam airport at about 2 USD per photo if you do not have time to prepare those photos before departure.
Following regulation of passport style photo but it is not too strict:
– Photographs must be passport sized, identical, taken within the past 6 months;
– The image size from the bottom of the chin to the top of the head should be between 1 inch and 13/8 inches;
– The photographs may be in color or black and white;
– It must be full face, front view with a plain white or off-white background;
– Photos should be taken in normal street attire, without a hat or headgear that obscures the hair or hairline;
– Uniforms should not be worn in photographs with the exception of religious attire which is worn daily;
– If prescription glasses, a hearing device, wig or similar articles are normally and consistently worn, they should be worn when the picture is taken;
– Dark glasses or non-prescription glasses with tinted lenses are not acceptable unless required for medical reasons. A medical certificate may be required to support the wearing of such glasses in the photographs.
4. Vietnam visa fee for Turkish passport
| | Visa type | Validity | Service fee | Stamping fee |
| --- | --- | --- | --- | --- |
| 1 | 1 month single entry tourist visa (DL visa) | 25 days | 125 USD | 25 USD |
| 2 | 1 month single entry business visa (DN visa) | NA | NA | NA |
You might like this
We are here ready to help you!
If you have any further inquiries, comments or feedback, please kindly contact us by phone or Whatsapp at +84-912-685-141 or send an email to vietnamvisabooking@gmail.com. We are happy to assist you at our best!