How to get emergency Vietnam visa on Tet holiday 2020?
Tet holiday or Vietnamese Lunar New Year is the most significant festival in Vietnam. In 2020, Tet starts from January 23rd until January 29th, 2020 (7 days), it's good time for foreign tourists to spend their vacation in Vietnam enjoying the longest Vietnamese festival. You should apply for Vietnam visa early to avoid the risk of having no visa at the last minutes.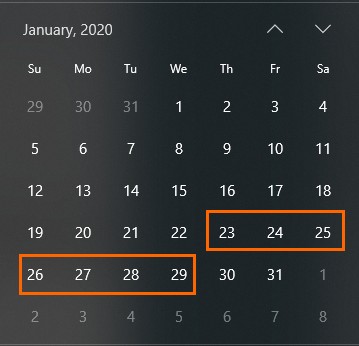 During this time, all the office stops working, including the Vietnam Immigration Department (except the immigration offices at the international airports in Hanoi, Ho Chi Minh City, Danang, Nha Trang and Phu Quoc to issue the visa for the foreigners arriving Vietnam on Tet holiday). If you plan to travel Vietnam on Tet, please read the instruction below carefully that helps you avoid the trouble with Vietnam visa:
Complete visa application before January 22nd, 2020:
Since the Vietnam Immigration Department is closed on January 23rd, 2020, you should complete your visa application no later than January 22nd, 2020. If you can not complete it before the due date, you may encounter the additional service fee and it's very expensive on holiday.
Choose the most appropriate visa type:
If you don't have much time to complete your visa application, you should not try with e-visa or visa application at the Vietnam Embassy as these options will takes time and you may miss your trip at last minutes if you don't have your visa delivered on time. Normally, an emergency visa on arrival would be the right choice in this case.
Check the visa information carefully:
You can not get on the plane, and of course, can not enter the country if there is a small mistake on your visa (including spelling mistake, typos, incorrect passport numbers, wrong date of birth, middle name missing…). Thus, you need to check the information on your visa (or visa approval letter) against your passport carefully to make sure everything is correct.
Order the visa fast track service:
Actually, there will be many customers arriving in Vietnam during Tet holiday, including the foreigners and the Vietnamese living in foreign country return to homeland for traditional Tet holiday. That will make the visa counter being overload and you may have to spend long time to obtain a visa onto passport. We suggest you to order the fast track service along with visa application to save your time obtaining a visa. With our fast track service, we will send a staff to meet you at visa counter, assist you getting visa stamp via fast lane, collecting luggage and going through the immigration checkpoint without queuing in lines.
Keep in touch with your visa agency:
Please write down the hotline, telephone number and email of the Vietnam visa agency who providing you visa service. It's wise to keep in touch with the visa agency just in case you have a problem with entry visa. The telephone number and hotline of the visa agency normally appears at the foot of the email they sent you.

How to apply for emergency visa for Vietnam on Tet holidays?

If you need an emergency Vietnam visa during Vietnamese Tet holiday 2020, please take a copy of your passport and send to our email vietnamvisabooking@gmail.com or Whatsapp at +84-912-685-141, we immediately give you the instruction to proceed the visa application and get a visa to Vietnam at the soonest.
You can also go online at https://www.e-visasvietnam.com/apply/, select "Vietnam visa on arrival", complete the form with "Overtime processing" selected, make payment and we will do the rest.