Hanoi International Airport
Hanoi International Airport (Noi Bai Airport – HAN) is located 26km north of Hanoi City center. Travel time between Hanoi Old Quarter and Noi Bai Airport is about 45 minutes to 1 hour via Nhat Tan Bridge. Below is the Hanoi International Airport map and the instruction on how to get visa at Hanoi International Airport.
1. Arrival
At Hanoi International Airport, the immigration process should follow these steps:

1.1 Immigration
Upon entering immigration hall, you will find a Vietnam visa on arrival counter. You will need to queue for visa stamp at this area. If you employ the visa fast track service, the agent will bring a welcome board displaying your name waiting here.
For visa on arrival, you should prepare your original passport, printed visa approval letter, recent taken photo and stamping fee. A completed on arrival form also required.
After you receive a visa stamped onto your passport, please continue with the immigration process by going to the baggage claim area.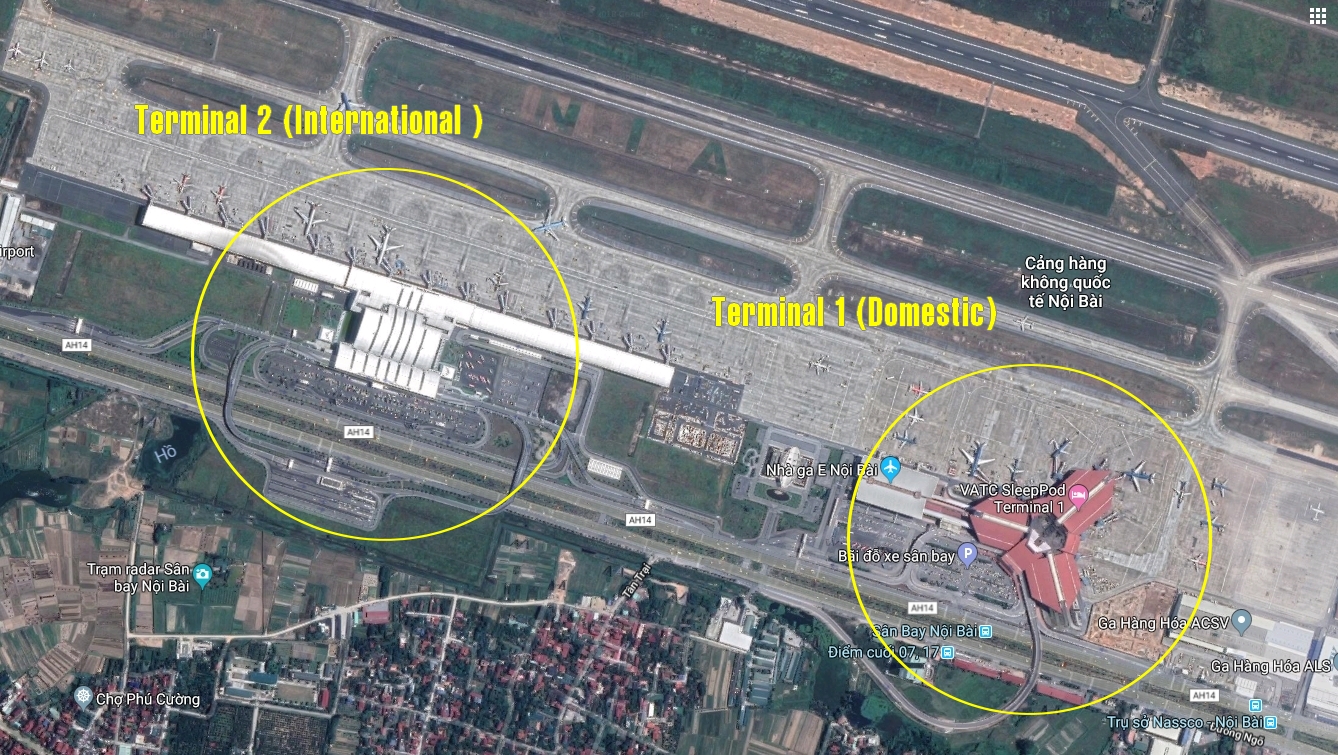 Hanoi International Airport map
1.2 Customs
After collecting your checked baggage, please proceed to the customs counter. Passengers with items to declare must complete a customs declaration form and hand it to a customs official along with their passport. If there are any omissions on the form, you may be questioned by the official. Please be aware that checks on precious metals, cameras, and videos are particularly strict and all baggage will be X-rayed. If you are making a foreign currency declaration, please accurately record the currency type and amount (only required if you have US$5,000 equivalent or more, including gold, silver, precious stones, etc…). Communications equipment cannot be brought in without obtaining prior permission from the Vietnam Ministry of Information and Communications.
More details about Vietnam customs regulation:
a. Good and products
You are able to bring the maximum amount of the followings; otherwise, it is mandatory to declare and pay import taxes:
Cigarettes: 400 nos
Cigars: 100 nos
Tobacco: 100 gram
Liquor: 1.5 liters
Perfume and jewellery for personal use
Souvenirs and gift items valued at not more than US$ 300
b. Materials under declaration
There are no restrictions on the amount of currency, gold, precious metals and stones; however, you have to declare on the customs forms provided that your luggage includes:
Declare if you bring:
Foreign currency: in excess of US$ 5,000
Vietnam dong: in excess of VND15.000.000
Gold: in excess of 300gr
Gold and jewellery not for personal use
Video tapes, CDs: CDs and tapes are often kept for screening and returned to you after a few days
c. Banned materials
Things below should be excluded from your luggage:
Weapon, ammunition, explosives and inflammable objects
Military technical equipment; drugs, opium and other narcotics
Anti-government literature; pornographic literature, etc.
On top of this; antiques, some types of precious stones, wild animals, rare and precious plants listed in Vietnam's red-book could not be exported.
Visitors are normally required to fill in arrival-departure forms and also custom forms on condition that you bring things that require declaration or exceed duty-free norm. Nevertheless, from 15 November 2010, arrival-departure forms are exempted for all visitors in all international airports and 12 border checkpoints in Vietnam. Thus, it is likely that may not have to fill in any form when you visit Vietnam.
Please be noted that this is only a brief summary and that customs regulation in Vietnam are subject to change at any time. So, always double check all information before making any important decisions. The Vietnamese Customs maintain an extremely informative website which you can refer to.
2. Departure
The departure at Hanoi International Airport should be following:

2.1 Check-in
Check-in opens 3 hours prior to departure.
Please check in at the check-in counter for your airline.
2.2 Immigration
You will need to show your passport and boarding pass.
2.3 Security check
After undergoing a body check and having your baggage X-rayed, please make your way to the departures lobby.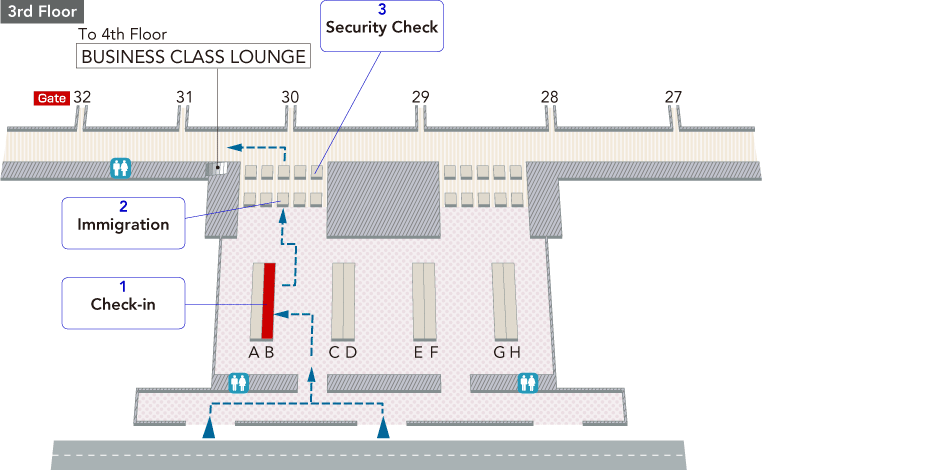 We are here ready to help you!
If you have any further inquiries, comments or feedback, please kindly contact us by phone or Whatsapp at +84-912-685-141 or send an email to vietnamvisabooking@gmail.com. We are happy to assist you at our best!